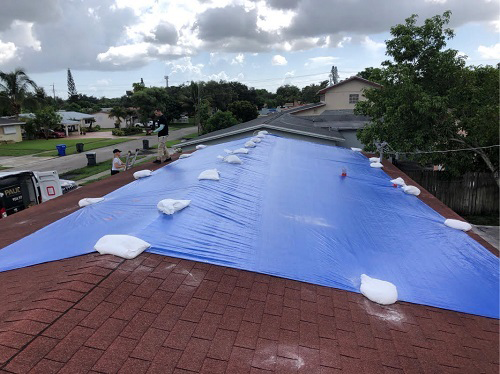 When a big storm is bearing down on your area, it's probably a little too late for major roof repairs. But it's never too late to try and cut down on the damage that could be coming. Here are a few tips for things you need to do right away before a storm hits.
Pre-Storm Checklist:
1.     Look for Leaks or Stains Indoors:
Visible stains on a ceiling or wall could mean an obvious roof problem. Some roof leaks can be tricky though if water enters the attic and travels along framing like trusses, dripping somewhere unrelated to the leak. If you see a stain along an exterior wall or ceiling you may need to take some emergency protection steps.
2.     Look for Debris in Your Gutters:
We all know that gutters will gather leaves and dirt throughout the year, but you may not know how damaging this gutter gunk can be. Most Florida roofs are made from materials that wear over time, like fiberglass/asphalt shingles, tiles, etc. As the material wears down, it sheds and will usually collect in the gutters. If the water in your gutters is unable to drain properly, it will gather and potentially leak into the walls and ceilings of your home. If you inspect your gutters and find roof debris, you may need to take emergency protection steps or call a roofing expert for advice.
3.     Exterior Inspection:
Take a few minutes to do a visual inspection of the exterior of your roof. Materials will degrade over time. For asphalt shingle roofs, there are often small corners that may pull up away from the roof. It's often common for shingles to pull away and blow off completely in heavy winds. You should also look to see if there are any sags or discolored spots on your roof. These may be signs of damage that could lead to leaks soon. Be sure to take pictures, make notes, and document everything.
4.     Trim Your Trees:
Check around your home for any low-hanging or dead tree branches that could potentially fall and damage your roof in heavy winds. You can trim away small branches if it's safe to do so, but leave the heavy stuff for professionals.
5.      Tarp Your Roof
If you see any areas of large damage before the storm, it's important to try and prevent further damage. You can buy a tarp at almost every hardware store and most likely you can find one large enough to cover 3 feet past each edge of the damaged spot. Lowes has a helpful video on how to tarp your roof.
Post-Storm Checklist:
After the storm passes, and when you are sure it's safe, there are a few post-storm things to check off. If you think you are experiencing any leaks or think you may have had roof damage, Here are the 5 most important things to do next.
1.      Inspect your Property as soon as Possible
Do an inspection similar to your pre-storm check. Look for loose or missing shingles, damage from tree branches, debris on the roof, sagging spots, etc. Check the interior for water spots, stains and active leaks.
2.     Document Everything
Take pictures of anything that looks like it might be damaged to you and make notes. There is no such thing as over-documenting and all of this can come in handy when it's time to file an insurance claim.
3.     Tarp Your Roof
If you do have any large damage spots or leaks in your home, you can follow the same tips from the video here.
4.     File an Insurance Claim
If you believe that you have significant roof damage, it's time to file an insurance claim. Contact your local agent or insurance carrier to see the proper method for filing a claim to get the process started.
5.     Call Stonebridge Roofing – Waterproofing – Exteriors
If you're not sure how extensive your roof damage is, call the trusted experts at Stonebridge. You can request our emergency roof repair service here. We will come to give you a full assessment of the damage and inspect your roof with no obligation.  904-262-6636.
Stonebridge Roofing is a licensed and insured, certified roofing installer, so they are approved by the manufacturer to provide a warranty. Stonebridge Roofing can also help with new replacement windows, vinyl siding, gutters, and painting as well. Let Stonebridge Roofing become your first choice for all things exterior. Request your free assessment today.