Stonebridge Fire Safety Tips
November brings a chill in the air and the anticipation of holiday festivities. But with these seasonal changes, we  want to remind you that it's also an important time for fire safety awareness. It  all starts with understanding and preventing fire hazards. At Stonebridge Roofing, Energy & Exteriors we're not just a roofing company. We care about our community and ensuring the overall safety of the homes and families in our area. Here are essential fire safety tips for this November:
Statistics show that as temperatures drop, the number of residential fires increases. The Red Cross responds to 27% more house fires November – March than during warmer months. Heating equipment mishaps, unattended candles, and overloaded electrical circuits are common culprits as we seek to warm our homes and create a cozy holiday feel.
Inspect and Maintain Heating Systems:
Before the cold sets in, have those system inspected by a professional. Dust and debris can build up on elements over the Florida summers. Ensure that chimneys and vents are clean and unobstructed, and filters are replaced or cleaned as necessary.
Mind Your Holiday Decor:
Holiday decorations are fun and festive, but they also pose fire risks. Keep flammable materials away from heat sources, use flame-resistant decorations, and never leave candles unattended.
Test Your Smoke Alarms:
Smoke alarms save lives, but only if they're working properly. Test your alarms monthly, replace batteries at least once a year, and replace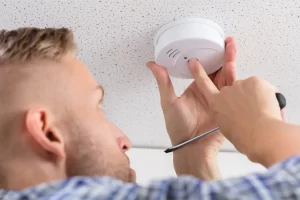 the units every ten years.
Have a Fire Escape Plan:
Every member of your household should know what to do in the event of a fire. The American Red Cross has a home fire escape plan you can use with your family. Practice your escape plan, ensuring there are two exits from every room and that everyone knows the designated meeting spot outside.
Be Kitchen Smart:
Cooking is the leading cause of home fires. Never leave your cooking unattended, keep combustible items away from the stove, and have a fire extinguisher within reach.
Safeguard Electrical Systems:
Inspect cords for damage, don't overload outlets, and ensure that wiring is up to code. If you're decking the halls, use only lights and extension cords designed for outdoor use when decorating outside.
Stonebridge Commitment
Stonebridge Roofing, Energy & Exteriors is more than just a top-rated roofing company. We are a community partner, dedicated to the safety and well-being of the neighborhoods we serve. We pledge to support our clients through education, quality service, and the promotion of fire-safe practices.
Fire safety is a collective responsibility that extends beyond a single month. However, November's unique risks necessitate heightened awareness. Together, let's light up awareness and douse the flames of potential danger, ensuring that November is memorable not for fire-related incidents, but for the warmth of safety preserved.
Remember, prevention is the best protection. Stay warm, stay safe, and for all your roofing needs and safety concerns, turn to Stonebridge Roofing —your shelter in the storm.